Looking to spice your bathroom up this Summer? Get ready to find the most perfect 13 trending bathroom colours.
Colour has the power to change our psychological state. It can calm our nerves, help relieve our anxieties, give us energy, and help produce those important happy endorphins. So, when it comes to choosing the perfect colour for your bathroom, it should be a one of your most important decisions.
Enusring you opt for the right colour for your bathroom can be extremely overwhelming. With all the tones and hues out there, you could spend weeks and months trying to decipher which is your favourite.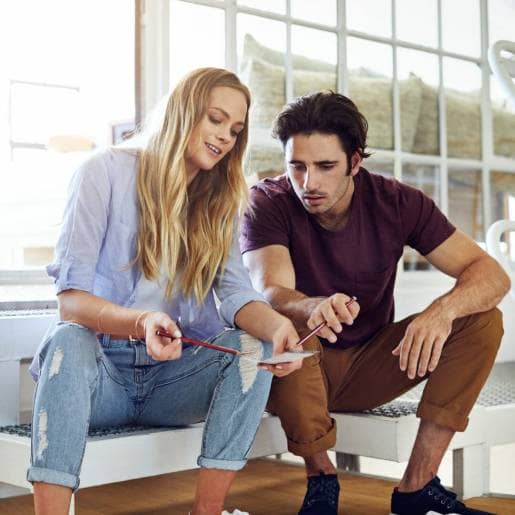 Lucky for you we have been busy narrowing down the top and trending bathroom colours for summer!
What are the trending summer bathroom colours?
Yellow
Cool Blue
Indigo Blue
Tan
Griege
Hunter Green
Peachy Pink
Zesty Orange
Mid- Brown Taupe
Primary Brights
Terrazzo Tiles
Off White
Terracotta
1. Yellow Bathroom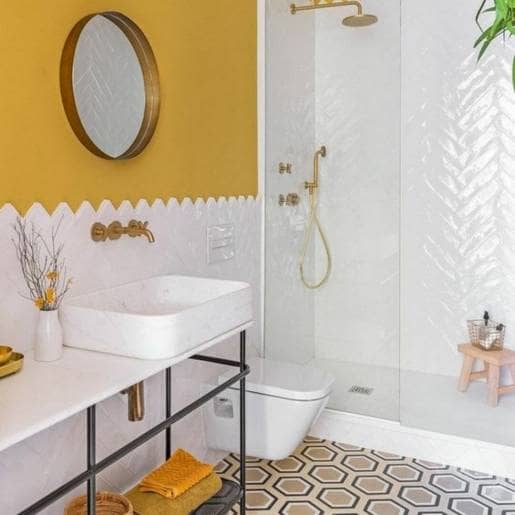 Yellow is making a strong comeback in the bathroom interiors game. It's a great way to add personality to your bathroom if you're tired of the greys and neutrals.
As we hit peak spring and head into summer, what better time to add splashes of warm, sunshine yellow hues to your bathroom, cloakroom or en-suite.
Described as a cheerful and welcoming colour, yellow can be used delicately or boldy depending on your style.
2. Cool Blue Bathroom Colours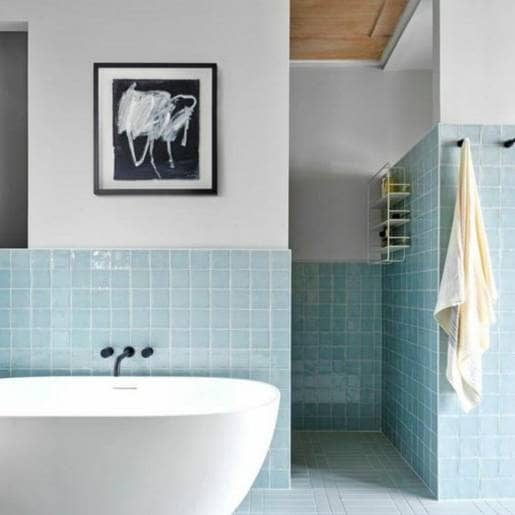 If you're looking to inject a sense of healing, water and sky then we would suggest going for a cool blue.
It has been said that blue can have a positive effect on your mood and holds a healing element as it projects an element of nostalgia to nature that helps us relax and unwind.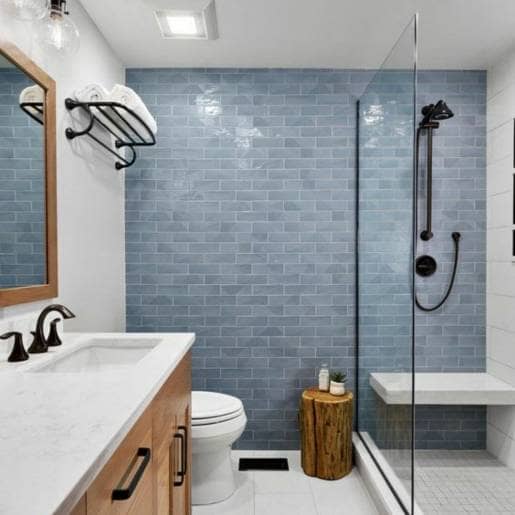 Cool blue tiles used as a shower feature wall, or bathrooms painted in this stunning hue, can be a cost-effective way to add calm colour.
If introducing colour to your walls is too much, why not consider a blue vanity or bath for a sprinkle of character.
3. Indigo Blue Bathroom Ideas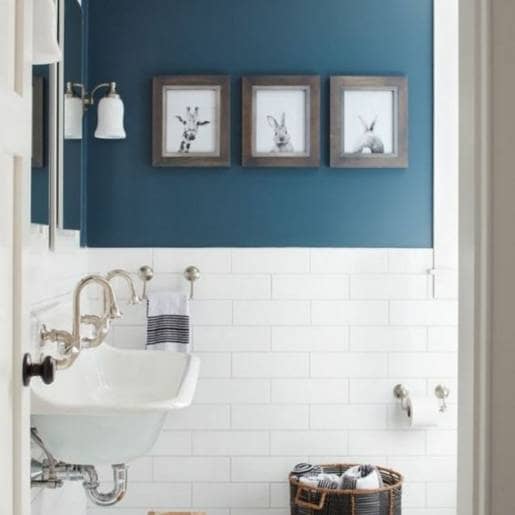 If cool blues aren't your thing, why not be a little more adventurous with an Indigo blue?
A richer hue with a slight violent undertone, this blue is on the darker side and works beautifully with a white subway tile for a stark contrast. 
4. Tan Bathroom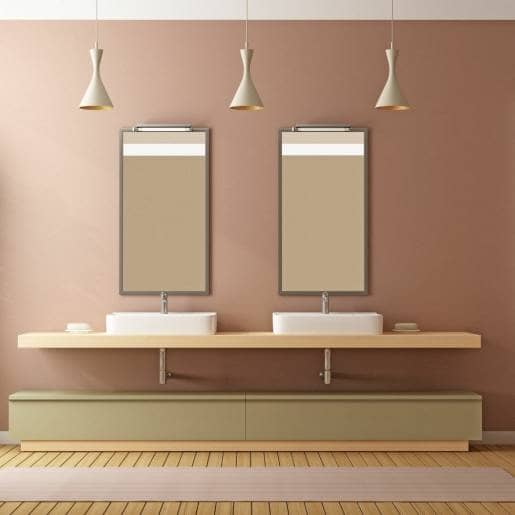 Earth tones like tan are huge this summer, offering a calm and welcoming natural feel to your bathroom space.
Paired with crisp whites, browns, other earthy tones, and brass brassware, will keep your bathroom feeling wholesome with luxury twist.
5. Greige Bathrooms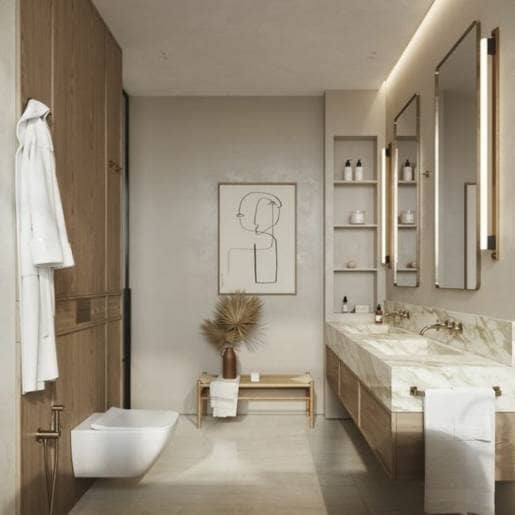 What on earth is 'Greige' we hear you say? Introducing a new leading colour trend, a soft mixture of timeless beige and modern grey gives you greige.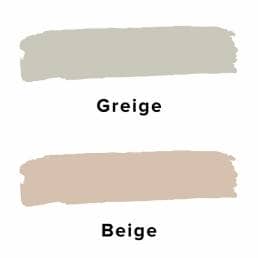 It can do it all, be paired with almost any texture, colour, interior style and best of all, has a calming psychological affect on the brain. A colour masterpiece if you will, that looks picture-perfect in a bathroom setting.
6. Hunter Green Bathroom Colours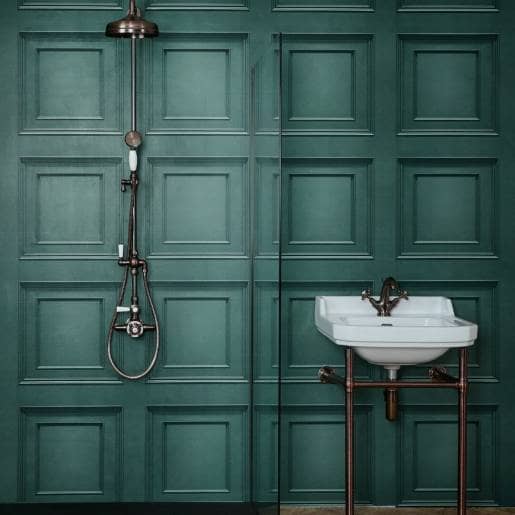 Bring the great outdoors into your home and provide your family with a refreshing splash of colour with hunter green.
This beautiful hue works effortlessly when accompanied with copper fixtures and fittings or add a vintage flair with traditional oil rubbed bronze brassware.
7. Peachy Pink
Inject happiness and femininity with a subtle peachy pink tone. Part of the pastel colour family and set to make statement this summer, it's hard to deny that this hue looks anything but fabulous.
Use traditional farmhouse furniture and add a peachy pink accent wall to create the ultimate summer feel.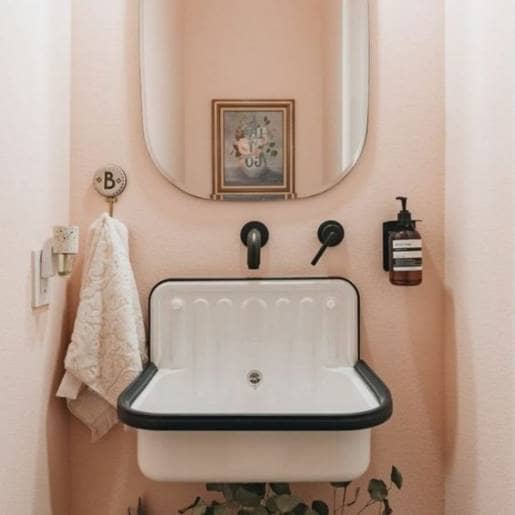 8. Zesty Orange
We're not talking about an orange bathroom; we're talking about a 'zesty' orange bathroom! What's the difference? It's the brightest form of orange, providing a joyful, spicy aesthetic.
Although this can sound like a bolshie, out their colour it looks truly beautiful and brings back an 80's retro feels when paired with a bright basin and some groovy terrazzo tiles.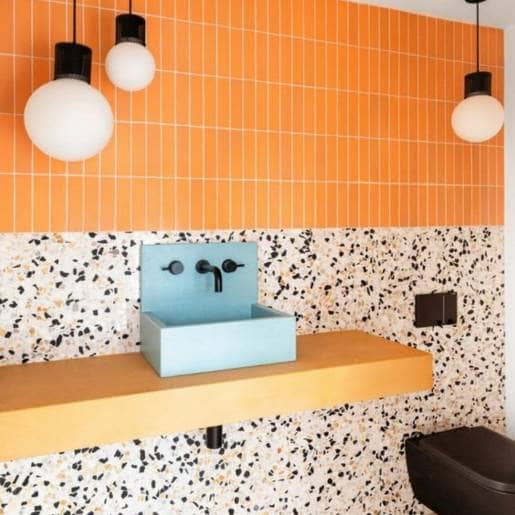 9. Mid-brown taupe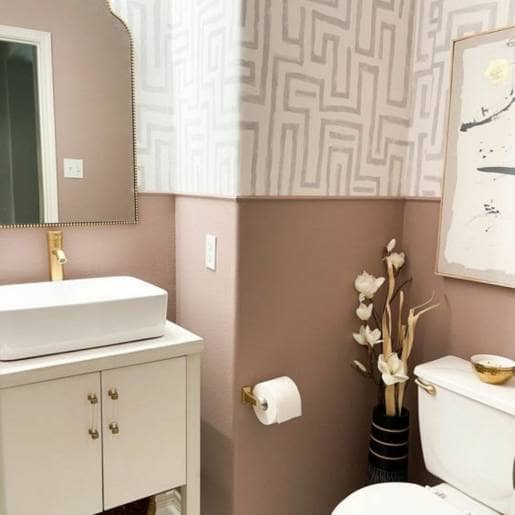 Moving back towards earth tones again, we are seeing more and more mid-brown taupes appear in people's homes on Instagram as part of the bathroom trends.
An easy-going colour that fits rustic, minimal and traditional bathroom designs. Even better, you don't have to tread lightly with this bathroom colour.
Discover taupe tiles, taupe furniture, flooring and so much more in this timeless tone. Incorporating a taupe feature wall works great as a focal point for your bathroom space.
10. Primary Brights
The minimal and neutral lovers may want to skip past this section as we introduce the primary brights!
As the name suggests, the aim with this summer colour trend is to include all the primary colour palette into one space.
Go wacky and wild with an art inspired wall, paired with matt black or brushed brass taps, showers and welcome bold colours into your home.
11. Terrazzo Tiles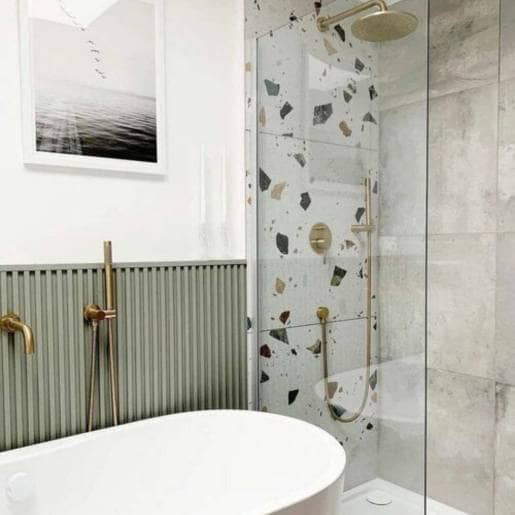 Terrazzo tiles will create a beautiful modern bathroom with minimal colour, making it the perfect choice for those who only want to add a dash of colour.
These types of tiles have multicoloured chips on a white backdrop and add an exciting and eye-catching feature in the bathroom.
If you love layered texture, include sage green fluted tiles and natural stone tiles for the ultimate contemporary bathroom design.
12. Off-White Bathroom
Using off white can be the best option if you want to keep your space neutral but less sterile than crisp or pure white bathrooms.
It leaves a gentler impression and can be paired with almost any texture, colour and bathroom furniture making it one of the easier colour schemes to style. 
13. Terracotta Bathroom Ideas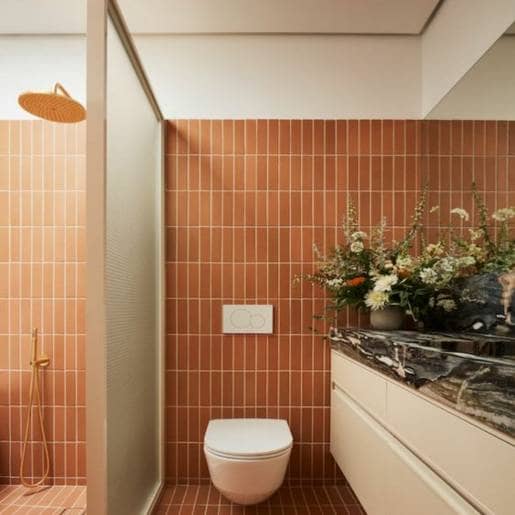 Terracotta is the name given to a natural brown/ orange hue and part of the earth tones. A shade created to provide a cosy and colourful warmth, even if used lightly.
This nurturing colour looks particularly gorgeous in tiles and set to soar this summer. We recommend styling your terracotta space with natural material, for a super sleek interior design.
We hope you found your go-to summer colour for your bathroom with our top 13 hues! Happy home decorating!
Rikki has a passion for interior design and an even bigger passion for writing about it. When she isn't writing about gorgeous bathroom interiors, you'll find her discovering all of the latest trends.
Credit: Source link