As we head towards the last few months of 2022, ready for autumn/ winter. As the leaves turn colour and the landscape changes, so do the interior design trends. For the past year, interior trends have centred around bringing nature and tranquillity into the home, as most of us remote work.
This autumn the top trends centre around comfortable, affordable, and uplifting living. The focus is on small updates that can really enhance your bathroom space with confident tiles, retro vanity units and warm colour palettes.
Discover below, the 7-bathroom trends for Autumn, according to our bathroom experts:
Mural Tiles
Knotty Pine
Concrete Walls
Bathroom Rugs
Finger Tiles
Retro Vanity Units
Mural Tiles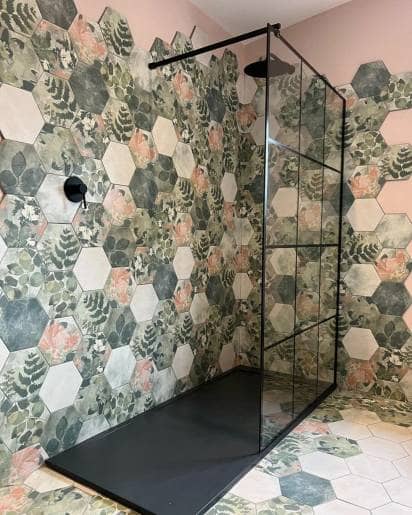 When it comes to tiles, there are hundreds of designs and colour options out there, which is great, but how do you choose the right type for you? The most recent trending tiles coming through this autumn are creative mural tiles.
Mural tiles are versatile and can enhance all types of bathrooms no matter the size or shape. So, if you're looking for tiles that take your bathroom décor to the next level, mural tiles could be the ones for you.
Mural tiles flow in patterns and detail to create a work of art in your bathroom. They work beautifully as a statement shower wall bath wall or as floor tiles.
A great cost-effective way to add personality and pops of colour to your space!
Knotty Pine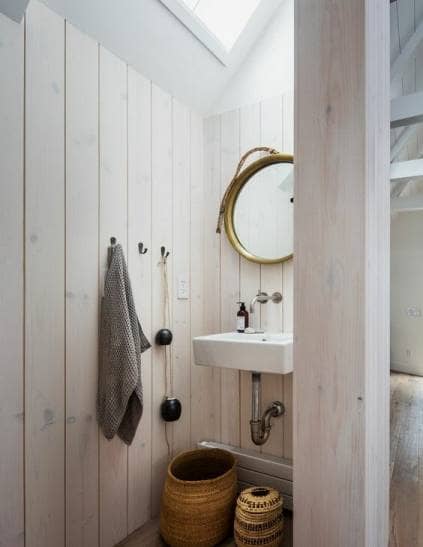 If you don't know, it's time to get to know. Pinterest trending and the latest go-to wood, knotty pine is fast becoming an interior favourite.
What is Knotty Pine Wood?
Knotty pine wood is a type of timber that is distinctive due to its dark and large knot pattern. Typically used for flooring, vanity units, tables and walls.
When it comes to the bathroom, knotty pine wall panels and floors are the most popular way people are introducing this natural material into their bathrooms, cloakrooms and en-suites. If you're not a fan of its rich colour, painting and sanding is always an option to neutralise.
Concrete Walls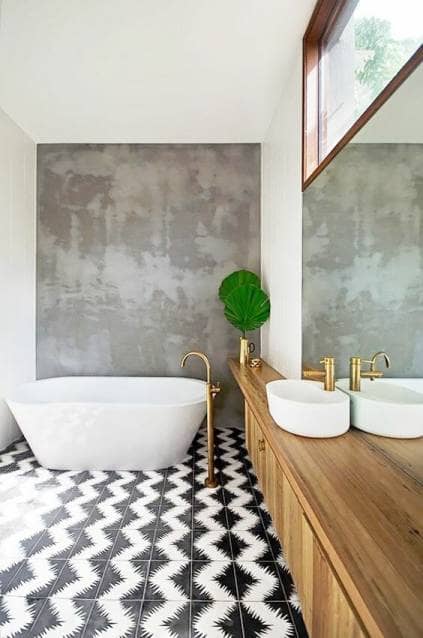 If you haven't been introduced to the minimal and stylish look of concrete walls, we are here to help you meet their acquaintance.
Concrete is a popular trend due to its clean line aesthetic, cost-effectiveness and durability benefits. Not only that but it's an extremely versatile material and compliments most textures, colours and interior styles.
Concrete effect or concrete style walls give a minimal backdrop for you to build on. Add depth and texture with a patterned floor, freestanding bath and rustic vanities for a beautifully eclectic space.
Bathroom Rugs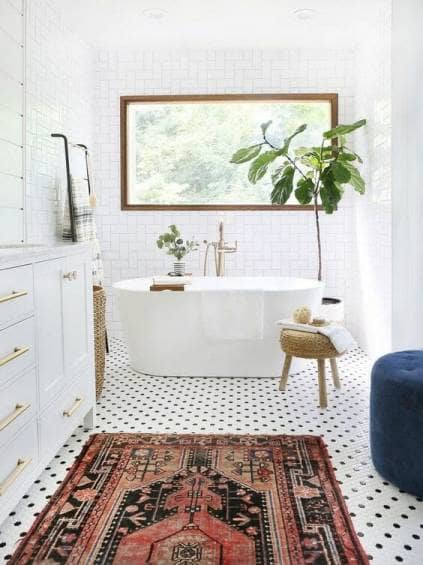 A rug in the bathroom might sound a bit strange but it's the new favourite feature in bathroom décor. A rug can bring comfort and texture to hard, cold floors in either a minimal or dramatic way, depending on your style.
Bathrooms are moist areas and therefore opt for a water-resistant or washable material so the rug can be kept clean and hygienic.
If you love a neutral space but are eager to add colour, why not use a large Persian-inspired patterned rug to inject personality and warmth into the room?
Placing the rug under a stylish modern freestanding tub will help bathrooms feel comfy and cosy in the colder months, or place it in front of your vanity unit for added comfort for your feet whilst brushing and washing.
Finger Tiles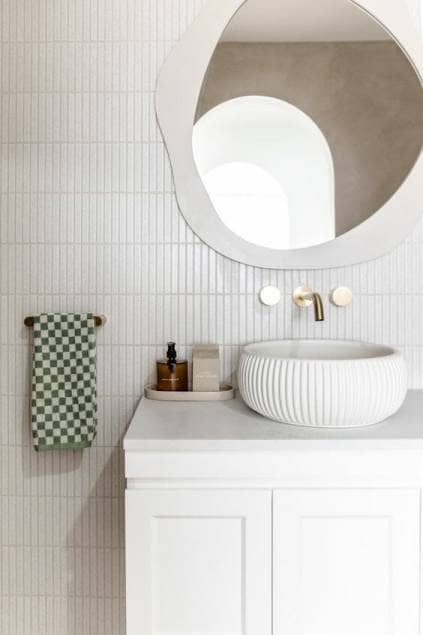 Finger tiles, kit-kat tiles, whatever you prefer to call them, are the latest slim line tile trend.
Roughly the size of the average finger, they have a simple look but an extraordinary design presence. Available in a variety of hues that suit minimal or maximum bathroom interiors.  
A popular bathroom design idea for these tiles is to use them as a splashback. This will add impact to your space or, alternatively use an entire wall to create a simple yet effective neutral base for your bathroom to build on. Mixed with brushed brass taps and showers to add warmth and elegant touch.
Retro Vanity Units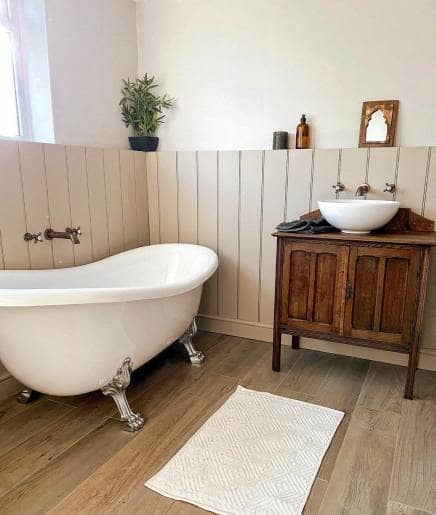 The bathroom is one of the best spaces to experiment with and we are seeing more and more people do this with retro vanity units.
Homeowners are using these vintage finds to refresh their bathroom decor with a mid-century twist. Whether the vanity units are a flea market find, updating an existing cabinet unit or giving it a lick of paint and new lease of life, people are loving this retro touch.
Our favourite retro vanity trend has to be the aged oak ornamental style combined with a bowl countertop basin and wall-mounted faucet to finish off the antique look.
Rikki has a passion for interior design and an even bigger passion for writing about it. When she isn't writing about gorgeous bathroom interiors, you'll find her discovering all of the latest trends.
Credit: Source link