MILANOBATH®, the new bathroom furniture collection from Glass Design has sophisticated elegance complete with an artisanal touch.
Embarking on a journey of research, exploration, innovation and new interpretations, Glass Design deepens its roots in the bathroom world thanks to the introduction of complementary vanity units capable of defining new styles and aesthetic perceptions.
Inspired by the city of Milan, undisputed capital of design, MILANOBATH® offers new inspirations and solutions with the aim of creating a particular type of bathroom, elegant, functional, timeless and reflecting the rich artisanal patrimony embodied in the Made in Italy phenomenon.
Perfectly suited to accompany washbasins from the exclusive 'Privileged Paths of Water' collection, which can be fashioned from fine materials such as glass, crystal or marble or new generation creations like Vetrofreddo® or Siliconio®, MILANOBATH® items have been created to provide a captivating 'total look' environment further strengthened by complementary items e.g. mirrors, lamps and bathroom accessories.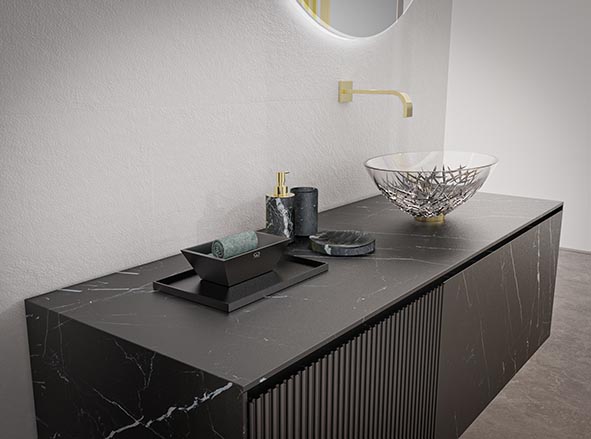 The MILANOBATH® collection embodies the very essence of artisanal know-how, combining and blending different materials, craftsmanship and work processes.
For the first time, Glass Design introduces bamboo, a plant of extraordinary characteristics that, thanks to the vital force it possesses, is fast growing, eco-sustainable and utilisable in all its parts. It reduces air pollution, does not require the use of pesticides or chemical products.
Bamboo, available in various finishes, is combined with brass, also in different finishes or porcelain stone in either Calacatta or Nero Marquinia marble effect.
There are three furniture types: DOMUS, VIRTUS and VIRTUS XL.
DOMUS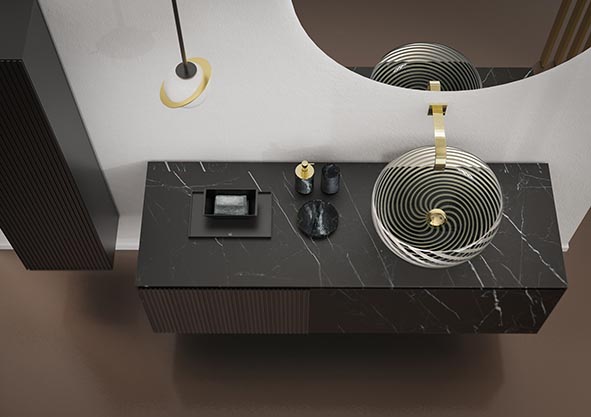 DOMUS is a wall-hung double vanity unit. The top, sides and one of the drawer fronts come in porcelain stone in Calacatta or Nero Marquinia marble effect. The opposing drawer front comes in contrasting but complementary black lacquered bamboo. Dimensions: L151xP51xH35cm
VIRTUS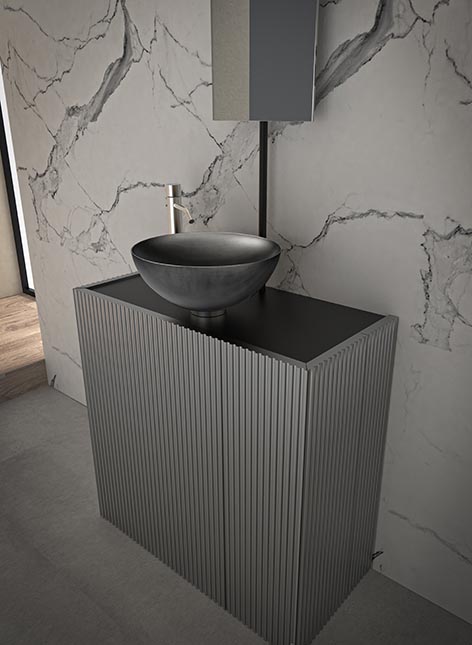 VIRTUS is a floor-standing vanity with door, shelves and integrated mirror. The structure is in bamboo and it comes complete with a brass top which can accommodate a tap, where required. The mirror's support rod is in the same finish as the top. It can be complemented by an extensive selection of "Privileged Paths of Water" basins, of varying styles and finishes. Dimensions: L75xP36xH75cm
VIRTUS XL
VIRTUS XL is a wall-hung tall unit featuring internal shelves and a black lacquered bamboo front. Dimensions: L35xP22xH135
Accessories
The collection is complemented by a back-illuminated mirror (100cm diameter) with an exterior satin-finish border, featuring the MILANOBATH® logo.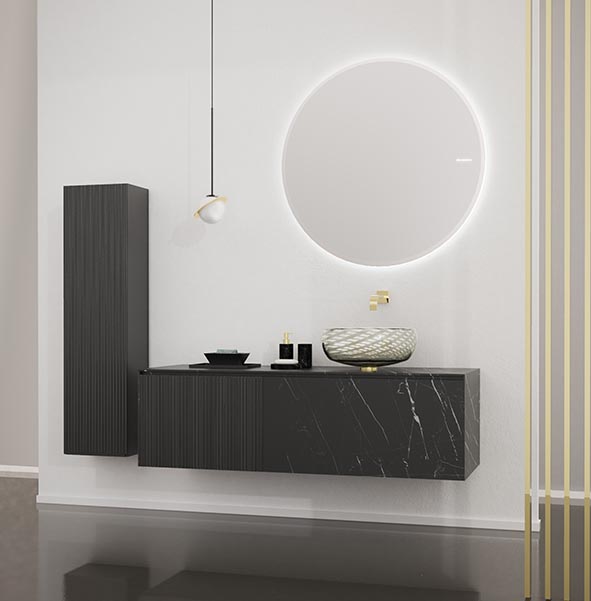 MILANOBATH® also includes SATURN lamps that are perfectly harmonised with the furniture, in wall or pendant versions and characterised by a brass ring in the same finish as the vanity.
With the MILANOBATH® collection, Glass Design undertakes a new journey into the discovery of multiple opportunities to create unique, elegant and practical solutions by offering different combinations of luxurious materials and finishes. These reflect market trends and the increasing desire for the bathroom to echo the user's personality and daily life, against a backdrop of beauty, luxury and supreme craftsmanship.
For more information, visit glassdesign.it
Credit: Source link