Not only is singing in the shower so much fun but it can be great for your health! Our latest survey revealed the UK's favourite shower songs and how specific genres can set you up for the day.
A survey reveals 20% of shower-singing Brits say it helps lift their spirits.
A further 45% said that playing music helps them prepare for the day ahead.
Heavy metal, jazz, and classical can all positively influence mood.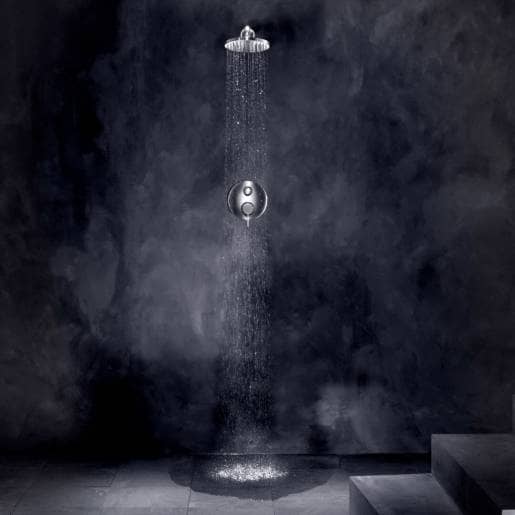 78% of us sing in the shower and I think we can all agree that nothing beats singing your heart out (no matter how bad you are) whilst you wash away the suds.
With shampoo bottle in hand, acting as your microphone and using your best vocals to put on the show of your life, has proven to relieve stress, improve lung health and brain functionality.
We have surveyed 1,000 Brit's bathroom habits and teamed up with musicologist and founder of the online recording studio, Joe Wadsworth, to reveal the ways in which singing and listening to music during a morning shower can enhance your mood and help kick start your day.
We then investigated Spotify's playlist data to discover which songs and genres are most listened to in the bathroom and how your favourite songs affect your mind.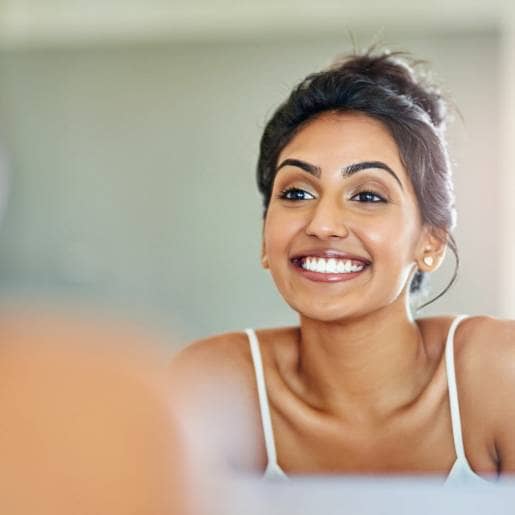 20% of those surveyed by us said that singing their favourite songs in the shower puts them in a good mood, Joe further explained, "When we hear a favourite tune our brain releases endorphins and by singing along, we are actively focusing on the music rather than our worries, and also controlling the way we breathe, so it can be therapeutic."
The top 10 feel-good shower singing track list according to Spotify:
Umbrella – Rihanna and Jay-Z
Steal My Girl – One Direction
Shower – Becky G
Tik Tok – Kesha
Party In the U.S.A. – Miley Cyrus
Just the Way You Are – Bruno Mars
Dynamite – Taio Cruz
Classic – MKTO
Stereo Hearts – Gym Class Heroes ft. Adam Levine
Super Bass – Nicki Minaj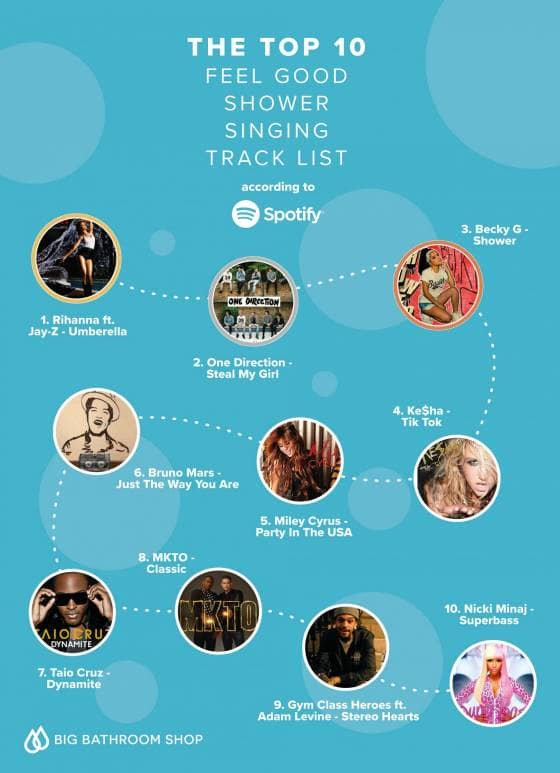 Research told us that, 90% of the top 10 tunes sit under the pop category. This could be because pop music is often shorter in length than other compositions. Pop music makes the perfect playlist- short, feel-good and catchy tracks.
Joe, our music expert said, "Pop songs also have that feel-good factor, prompting the brain to release the pleasure hormone dopamine – it's what makes us tap our feet and sing into the shower head."
Although pop has come out on top, it's not the only genre that can positively influence the way we feel.
A further 45% of those surveyed claimed that playing music in the shower helps them prepare for the day ahead.
Joe advises, "Studies have shown that genres featuring a heavy bass sound can give listeners feelings of power and confidence. So, if you're looking to get motivated consider heavy metal and hip-hop songs. For improved focus, consider music without lyrics such as jazz and for relaxation, opt for a classical or slow tempo playlist."
What Are the Health Benefits of Singing In The Shower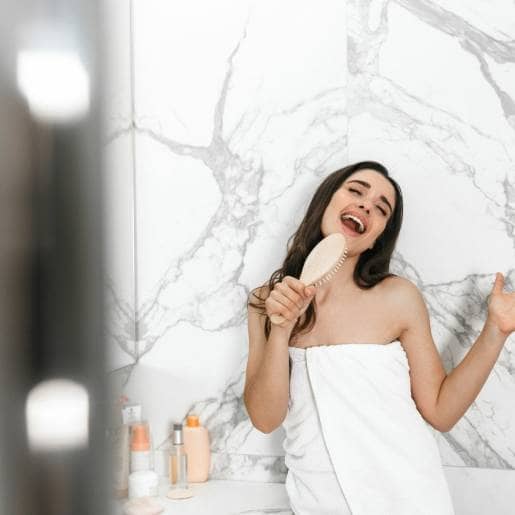 Brain functionality
Research has proven that singing can improve brain functionality and this is particularly good for older adults.
Relieves Stress
Studies have shown that singing can lower cortisol levels, leaving the person more relaxed and calmer after singing their hearts out.
Improves Lung Function
When you sing, it involves a lot of deep breathing and breath control which is great for the respiratory system. Breathing techniques when singing can improve your lung functionality and even help conditions such as asthma or other conditions.
So no matter what your partner/ friends and family members might say about you being tone deaf, keep on singing like a rock star!
We want to know what songs you like to belt out in the shower. Are you a Whitney Houston fanatic, does Arianna Grande bring out the inner song goddess in you? Let us know in the comments below!
Rikki has a passion for interior design and an even bigger passion for writing about it. When she isn't writing about gorgeous bathroom interiors, you'll find her discovering all of the latest trends.
Credit: Source link